Outdoor Portable First Aid Tool
Decreased blood loss, effective slack removal, fewer windlass turns. Well, this Emergency Tourniquet could save your friend's life. It is made to stop the bleed during a massive hemorrhage.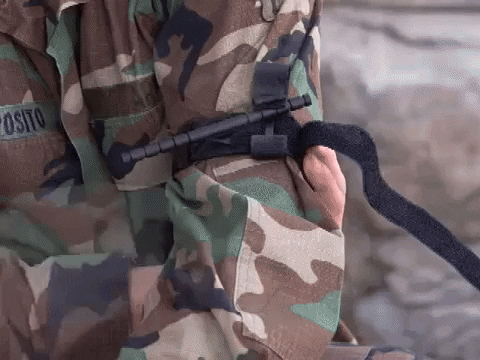 Tourniquet Very Easy To Apply
This tourniquet is easy to apply with its single protocol application. It can be applied by yourself with only one hand on your own leg or arm. Once correctly tightened, bleeding will cease and the windlass is locked into place. The writeable windlass security strap allows you to write the time of application.
Quick Access For Everyone
In an emergency situation, you need to act fast. The high visibility red tip on this emergency combat application tourniquet is designed for immediate location and identification.
One-hand Application Tourniquet
This tourniquet has a one-handed application which makes it easy to be applied by yourself on your own leg or arm. The one-hand windlass clip allows the tourniquet to be applied using only one hand, giving you a free hand to tend to other needs of the injured individual or for self-use.
Specifications:
Material: Nylon
Size: 16x5x4cm, Total Length: 95cm
Features: Quick Release Buckle, Hand Operation
Color: Black
Item Type: Tourniquet
Type: First Aid Kits
Function: Hemostasis
Sports Type: Camping, Hiking, Cycling, Hunting, Travel, Outdoor Sports
Occasions: Home, Outdoor Exploration, Travel
Weight: 0.08kg
Package Included:
1x tourniquet
1x user manual

SHOP WITH CONFIDENCE